Please complete the Field Trip Form. Deadline for application5/09/2016.
Departure time from MAICh: 14:30
Arrival time to Verekinthos: 14:45
Arrival time to Monastery: 16:00
Arrival time to hotels: 18:00 (approx.)
Cost: 15 €/person
Arts & Crafts Village Verekinthos
Verekinthos is the mountain where, according to an ancient tradition, Idaioi Daktiloi, sons of Zeus and protectors of the Arts, once lived and were worshiped. They came to this mountain to teach age-old arts to men, such as Metallurgy, Pottery, Glassworks and Weaving.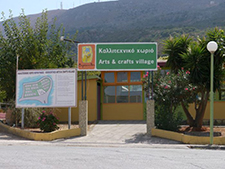 Today, the ancient name of this mountain emerges once again and takes its place at the same site. The above-mentioned age-old arts have been called up to take the place they deserve in people's life.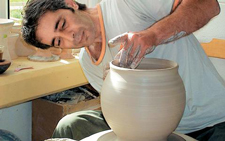 In keeping with the long tradition of craftsmanship in our region, the Arts and Crafts village of "Verekinthos" has been created. Verekinthos is a model environment for reviving and sustaining the arts which have always been an integral part of Cretan life and culture. The Arts and Crafts village "Verekinthos" stands between Souda and Tsikalaria, at the eastern gate of Chania. At this same place there were many workshops producing pots (tsikalia), thus giving the name to the town. They are some or the objects that bear witness to the village's tradition in pottery and other works, such as the old kilns, where potters used to bake their products.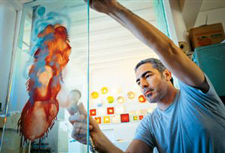 Function workshops of ceramics, silversmith`s and goldsmith`s, glass, leather, traditional Cretan knives, traditional musical instruments, where one can see the craftsmen working and find a wide variety of traditional and modern art objects.
The visit includes a guided tour in 10 workshops where artisans will present their work.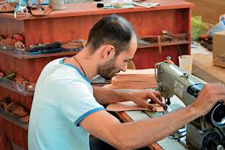 ---
Holy Patriarchal Stavropegic Monastery of Chrysopigi
The Holy Monastery of Chrysopigi is situated in Western Crete, on the outskirts of the town of Chania (3 km from the town centre). It is dedicated to the Mother of God, the Life-Giving Spring.
The Monastery was founded towards the end of the 16th century by a local doctor and philosopher, John Chartophylakas. Since its foundation, Chrysopigi has been a source of spiritual life and social activity.
The present community of Chrysopigi, in conjuction with the daily liturgical cycle of prayer, engages in icon-painting, ecclesiastical embroidery, book publication, the preservation of old books and icons, bookbinding etc. The sisters also cultivate the land with organic farming methods and implement an environmental education programme.